Tutoring Advantage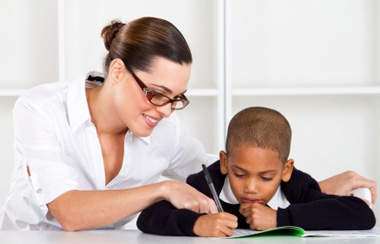 KnowledgePoints Tutoring Advantage
Many private tutors utilize a "teach and re-teach" methodology, which focuses only on subject matter and not on independence or efficiency. Consequently, a student who is dependent upon private tutoring in middle school and high school will generally struggle in college without continued support. KnowledgePoints promotes independent learning to enable students to rely on their own learning skills and less on external instructional elements (i.e. – class size, teacher style, etc.).

Another key difference is that most private tutors do not offer an initial diagnostic assessment to determine a student's strengths or weaknesses. Most academic problems or deficiencies occur over a period of time and are the result of skills forgotten or missed in earlier years. These skill gaps are easily identified with KnowledgePoints initial assessment. Without this information private tutors are often forced to move at a slower pace, trying to identify problems as they work with your child.


Better Experience!
Another clear advantage of KnowledgePoints is our access to over 30,000 academic exercises and materials. These materials have been researched, tested and proven effective with the thousands of students we have served nationally. Most of the time, private tutors have only their own materials which are generally limited and not necessarily effective for your child.

It is important to consider these factors when evaluating the best course of action for your child. Time is critical in helping your child improve their academic skills in order for them to perform at or above grade level. This is especially true if your child has fallen behind and is experiencing a daily loss of self-esteem. At KnowledgePoints, we work quickly to identify and address any academic problems. Our proven and effective methods also develop your child's independence and improve their confidence.